Latest News From Young Girls' House
In Turkozu
Our Youth House for Girls looks down on the city from the hills
Celebration At Young Girls' House
Pleasure in the Young Girls' Home
The Girls from Boztepe goes on a Culture tour
The Girls Pursue to Codetermination
The dreams are realized in the Young Girls' Home.
The students from High School meet the Working Children
The Friendship, Beauty, Solidarity and Sharing are in Progress.
Eleven Years of Young Girls' Home
---
Our Youth House for Girls
looks down on the city from the hills
By : Oya Fisek
(President, Fisek Institute Science and Action Foundation for Child Labour)
If you have watched the play "KESANLI ALI DESTANI" (Epic of Ali from Kesan), you probably would remember even after all these years, this famous play of Haldun Taner talks about how life goes on in the ghettos. Played by Engin Cezzar and Gulriz Sururi, this milestone of Turkish Theatre, starts with a song by the chorus:
"This is Sineklidag (Fly mountain)
looking down on the city.."
Our Youth House of Boztepe Quarter is one of the houses of this shanty town looking down on the city. The inhabitants of Gazi Osman Pasa Quarter (one of the posh sections of Ankara), can easily see our small white house with purple windows and door frames across the hill, with the sign saying "Fisek Institute Science and Action Foundation for Child Labour" on it.
Our 3 room house is much smaller than what would be considered "normal size house", as a Turkish saying saying goes, "Chick pea bed room, bean living room"(meaning a tiny house). It is heated by a wood stove in the middle, but any volunteer would say "it is very cute and loveable". We turned one of the rooms into a library and computer room. The smallest room is reserved for our Sibel, the responsible big-sister of our house, who is a Librarian and a graduate of Hacettepe University. This room is also used for mothers and daughters who wish to have private discussions. The third room is arranged as a classroom where the girls can do their homeworks after school. During weekends, mathematics and English tutoring classes take place in the same room, conducted by Melek Bölü and Sibel Koca, (Big sisters). Last but not the least, Nazli Koca"s contribution as a drama coach is very valuable for us and the girls.
All our three volunteers make the girls feel special through the love they give from the heart.
With the help of all volunteers, our girls feel valuable, perhaps for the first time in their lives, feel their self-confidence increase and they relax, surrounded by huge circle of love. Talking about increase, we would like to mention that their marks go up noticeably. Their teachers also notice the improvement of their homeworks prepared by the help of the library and the internet. We had to take precautions though, because they always preferred to play on the internet compared to reading boks. While restricting the time spent on the internet, we put forward rewards for the ones who read boks and wrote summaries, like taking them for excursions in Ankara, visiting Ataturk"s Moseleum and such. They were overjoyed by this idea, you should have seen them ! And now the reading rate is definitely increasing.
We have 52 girls now. We asked them why they come to use the "Youth House for Girls". Here are some of the answers:
* It is quiet here. We can do our homeworks comfortably, far away from the noise of the TV or games of brothers and sisters, then there is housework to do at home * It is hot here. We burn the stove late in the evening to save money at our houses. * We use the library. We can ask what we did not understand at school. * We can play * We can talk and share ideas comfortably here * At home or at school always boys had the say. Now we make them envious, saying "This is our house, you cannot come in" We tell them what we do here, they are very envious.
So, these are some of the reasons why our girls visit our "Youth House".
Meanwhile some of our friends who hear about our activities ask us if we had a party and did not invite them to the "opening". And we say "No, we COULD NOT have an opening, because even while we were trying to move in, mothers and daughters started knocking on our door. Questions poured in. It is impossible to stop the girls. When the schools were closed for mid-term one week earlier than planned, that did it. The house was filled with girls, they did the opening of the Youth House which was meant for them anyway."
I am hoping that our friends who just found out about the unofficial opening, will join our happy appreciation of all the volunteers, all the work achieved so far in the three months since the Youth House has opened. Everything is going smoothly, so we clapped and congratulated ourselves this week also. To accomplish and the continuity of this accomplishment is very important.
The doors of "the Youth House for Girls" open for mothers every Wednesday. We give work to every mother who sends her daughter to the Youth House and she gets paid for her work. Their poor faces light up. They are proud women who endure poverty with much strength.
I would like to share with you an emotional experience with one of them: Lets call this beautiful woman with a big heart, Zeynep. That day her face was white, it was easy to see her pain, she was suffering. I ask her : "What is wrong with you?" , "I am bleeding for 3 days and cramps are endurable" she says. "Did you go see a doctor?" I ask, she says: "I have a green card (special health care card for poor people) but the bus fare is too high"
I am almost choking, "Let me pay the bus fare for you" I suggest , embarrassed, although knowing I should not be the one to be ambarrassed. "No, I cannot take money now. You will pay me anyway when I finish the pot-holders you told me to make."
Next week she delivers the pot-holders and gets her payment. The week after I ask her again whether she went to see a doctor, she says, "Yes, he gave me a perscription, so if you pay me for the pot-holders I brought, I can go and get my medication."
Her bleeding continued for a month, I do not want to even think what if she did not have any pot-holders to make or what if we did not pay her on time.
In Boztepe, there are lots of women like Zeynep. Most of their husbands are either seasonal workers, or are unemployed. But it is good to observe that whatever training or work they receive here in the Youth House help them to get by. Now we ask your support, dear friends, we must sell the products the mothers made, so we can get more material to give them.
On Wednesdays we work and talk at the same time, looking for solutions. The topics are, women"s rights, violence, hygiene, birth control, reproductive health. The future help of any specialist is highly appreciated. We told them about 8th of March Women"s Day one week before and told them that we would celebrate it. And we kept the promise, we got cakes and cookies and started to wait for the mothers. Yes, at 13.30, there they were in their beautiful clothing and delicious home made local dishes like stuffed leaves or peppers, creps, potato salads. They all were shining with joy. "Where are the children" we asked them, "well, you said it is Women"s Day, so we left the children with husbands and came here to enjoy our day !" they said and rightly so we had a wonderful time, singing, laughing eating and drinking tea. At 15.00 hrs, the girl students joined us also. So for the first time the women of Boztepe celebrated the Women"s Day, looking down on the city, along with the city women.
The spring has arrived in Boztepe dear friends. Come on, help us to improve with your voices, with your strength. We are waiting for all of you to visit our "Youth House". We know we will be stronger by sharing.
---
Celebration At Young Girls' House
By : Oya Fisek
(President, Fisek Institute Science and Action Foundation for Child Labour)
The school bell at "Boztepe Primary School" rang for the last time and all students rushed out of their classes with report cards in their hands into the streets with cheerful screams. The school building became silent until 15th of september when it re-opens. The children arrived at the Young Girls' House, carrying all the joy and the report cards:
– I am on the honor list..
– My grades are all better than last term..
– I passed, I passed… I even got good grades in Math and English also…
They are all talking at the same time, jumping with joyful energy .
– Can we throw a party here?
– Please !
– We'll do everything!!
Silence. With big question marks in their eyes, they all stare at us. The word "No" will sweep away all their joy and energy. None of us would dare to do that. We are a bit curious about our girls' party as well. When one of them asks in a whispering voice:
– Can we please organise a party here?
Of course we do not hesitate to say:
– YES ! ..
All passers by look in curiosity at the windows and hear the overflowing sounds of joy and happiness.
The very same day our girls prepared and distributed the invitation cards with hearts on them.
We were happy and excited to go to our "house" on the "party" day. The living area was prepared for the party with couches and chairs all around the room. There were some neighbours sitting already. Our girls were welcoming the guests while some of them were busy in the kitchen, all of them very smartly dressed. Some of them even had make-up. When all the guests arrived, music started. Our girls put up an excellent show of dances, folk dances and sang songs, then started the service of tasty home-made delicacies.
In the afternoon we did our part of the show by organising games with presents as prizes at the end. This was a novelty for them and a big source of happines. Even the smallest gift we gave them made them thank us over and over again. And of course we silently thank them and couldnot help but reflect on their peers who live in down-town of the big-city.
And the time to end was getting closer, the mothers started to talk among themselves:
– Dinner has to be prepared
– "Wait a moment" we said, "we had made a promise in winter to take you to Ataturk's Mausoleum, so make a list and put down your names, so we can hire a bus for this outing!
Suddenly everybody started cheering but some couldnot help but worry:
– My husband would never let me or our daughter to go..
– If we all go then they will give the permission…
– I hope my mother-in-law would take care of my baby
– The husbands just sit around, doing nothing, what if they take care of the children just once in their lives !…
– We shall visit Ataturk !..
– Oh my god, we are going to the city !..
– I have been living in Ankara for fifteen years and only once I went to the border of Boztepe and that was with my husband..
– Yes, I took my son to the Health Center for vaccination once..
– Come on ladies, lets go home and convince the husbands !..
– Put all our names and the daughters' names on the list, please do not leave without us!
We are excited as they are, we made a division of labor, some of us got the prices for bus rental, Emel Kilicaslan and Banu Pehlivan signed the contract with 2 buses of 46 people seating capacity. We agreed to meet at 9.30 in the morning at Boztepe's border because the streets are narrow and busses cannot go upto our "house". We had our big box of lunch sandwiches prepared by Jale Sengul and Tulin Koca and all other volunteers.
When we went to our house the next day early in the morning in order to welcome the mothers and daughters, they were already there in their smart dresses and lunch sacs in their hands.
They were ready for the Zoo visit after Ataturk's Mausoleum as we promised them earlier.
We started to walk down the hill when everybody on the list was ready. Some of the other neighbours were watching us through closed curtains or waving hands openly in front of their doors. Our group was walking with their head up, proud which made us proud also. We were sure "We are doing the right thing at the right place" . Everybody knew where we were going, but some of our girls were telling the neighbors all the same:
– We are going to visit Ataturk's Mausoleum
– Then we are going to the Zoo, we wont be back before the evening
One of the grandmothers who stays behind pours a bucket full of water (as a Turkish custom-meaning a wish for safe journey-) saying: " They are in Allah's care and then yours, go with joy !" She thinks that the big city, which she watches from the hills, is soo far away .
Yes, the big city welcomes our girls with its noise, heavy traffic, crowds, high rise buildings and sirens and 2 level busses.
They all listen with utmost attention to the stories of Ataturk's life and Liberation Wars which Jale (our volunteer) tells them on the stairs of the Mauseloum. They visit and watch with intense feelings everything on display about the Liberation War and Ataturk in the museum. Some of them even sheds a few tears. They all take turn to write their feelings in the note books at the exit . We note some of them in our note pads:
"Atam (A respectful and loving address to Ataturk, which can be translated as My Ancestor)
My name is Zeynep Aktan.
I am in 6-B class of Boztepe Primary School.
I am sorry that I could not visit you earlier. But I live so far away, and my father works only in summers, that's why we do not have that much money, so I don't think I can come and visit you again. But I love you dearly, you said: "Girls must go to school" I am going to school and working hard. I am on the honor list this year. When I start earning money, I will come and visit you again. Zeynep (who loves you very much)"
"My Dear Ataturk,
We have your speech for youth hanging on the wall in our classroom. We read it everyday. You have given us a lot of responsibilities. You trusted in us. Rest in peace. We are all working very hard to fulfill our duties you gave us. My father is unemployed for 2 years, so I don't know whether I can continue to go to school or not. But nevertheless I still promise that I will be a girl like you would want me to be.
Sinem"
We ask the mothers if they would like to write a few lines also. Clouds pass through their eyes. One of them says: "All women here were taken away from school at early ages to be married. I had my first baby when I was 15. We grew up with our children. I could write something barely visible but I would be embarrassed , especially towards Ataturk !"
We feel as if our hearts are wrung, are they the ones to be embarrassed?
The program continues without any hesitation or stop. We enter the picnic area of the Ankara Zoo at 1 pm. The girls run towards the swings, slides and sea-saws. Mothers open up the lunch sacs. All picnic tables are illuminated by different home-made foods and we distribute the sandwiches we prepared before. Some mothers are uncomfortable because of the "city" shoes they wear perhaps only once or twice a year, so they take them off, and run towards the swings or play ball and have fun along with their daughters. Soon there is no difference between young mothers and daughters, enjoying their stolen childhood. They absolutely love the animals at the zoo. It is very difficult to say "Hey its time to go.."
Upon arrival at Boztepe we all hug each other to say goodbye. They thank us over and over again. And we thank them also, because we grow and become stronger by sharing their happiness.
They all wave goodbye, at the end of a beautiful day when they all left behind their unemployment, poverty, health problems, and enjoyed themselves like care-free children.
To all friends who say : " What can I do?" "How can I help?" , whom ever hearing our voice, we call them to join us in the fight to overcome the facit-circle, join hearts, hands and efforts. We never lose our belief that they will be on our side in every way.
Click for more details about Young Girls' House Project
---
An uphill winter… Then spring
According to State Statistical Institute "Consumption Expenditure" Research results, the maximum difference between income groups is seen on education expenditures. 3.159.000 family from high income group spent 68.1 million Turkish Lira for education; on the other hand the low income group spent only 0,5 million Turkish Lira. These amounts show that the rich spent 136 times more money than the poor. Considering the total number of unemployment reached 2.850.000, isn't it normal that the people, fight for just living, do not have enough money for education? The unnatural things are to keep quiet, change the agenda topic and not produce a solution despite being aware of the realities. The unnatural things are to reserve small amount of money from government budget for education and not to pursue the process after legislating the 8-year compulsory education without preparing a substructure and not to care for public schools but to take the private schools and universities under its wings. The unnatural is that since it's not possible to fail the class, there are thousands of students graduated from primary school who don't know even literacy and four operations. The unnatural is to try to teach English to students who couldn't learn to read in Turkish in the fourth grade. The unnatural is that the millions of people living in Ankara don't know the inhabitants from Boztepe or others like it and don't do anything for them.
This year at Boztepe, the poverty brought everyone to their knees.
One of the father of our girl's said; 'We are not the head of the household. The unemployment is agonising. Moreover, being an unemployed head of the household is more than it.' and bent his head with shame and desperation. There are many others like him in the neighbourhood because of the dead of the winter in addition to unemployment. We spent the winter with difficulties especially because of the explosion of the water-pipes. Young Girls' house was exposed to flood. The inhabitants came to the help of flood. They counted us as one of them. Each year we fire a tone-a tone and a half, maximum two tons of coal. In addition to coal that we used during this period, the foods and the money that were put aside for the winter were consumed away. The girls were getting sick very often. Their cough were tearing at our heartstrings. They were still challenging despite their feeble and underweight bodies. We increased the amount of foods such as fruits, cake and pastry and milk which are given them when they come our Young Girls' House from the school. However, we observed that they started to say 'I am full, may I take it to home for my siblings?'. But one has to be blind in order to understand that they are not. When it is announced that the schools were close temporarily because of the snow; while others in the city were having a field day, the girls came to us in the depths of despair and asked us 'Won't you close up the house ?'. We answered 'No, you can come to house whole day until the end of the holiday.'. The girls' eyes became luminous. Our heating stove was hot during the winter and we always served fruits, cake and milk. The girls studied all the time. We had three breaks to this tempo of study. Once, we took the girls and their mothers to theatre. It was the first time for their life. They spoke about it for weeks. The girls insisted on obtaining a promise to go to theatre in the following week. They liked it a lot. Then we celebrate International Women's Day and National Sovereignty and Children's Day and had fun together. We spoke and discussed about children, women's rights and national sovereignty. We ate the foods prepared by our volunteers, gave our presents. After the children ate the chocolate cake for the first time in their life, they celebrate their Day and had great time. They started to study next day aiming to be successful at school.
There are two girls named 'Fatma'. One of them has green eyes. We called her 'Blond Fatma'. She and her family had migrated from Hakkari to Ankara. And she was not very good at speaking Turkish. So, she could not understand the lectures precisely. She got bad marks and decided to stay silent. We explained insistently that staying silent is not a solution for this problem and she has to make effort to solve the problem to be successful. We told her that we believe her and trust her, happily we did it. Blond Fatma read book on and on during the winter in order to improve her Turkish. She narrated the books. Even her friends were playing computer games for a break to their homework, she kept reading books instead of playing computer games. She improved her English day by day. She studied harder after each 'well done'. We wished everyone could have chance to see the self confidence from her eyes when she came from school with school reports and said 'I will show something which makes you happy. I got 4 out of 5 and passed the class with certificate of achievement. Not only Fatma but also the other girls from house were successfully. The other success story which makes us happy was about seven girls who started to study in high school in the previous year. During their 2-3 week in high school, they were in panic and about to cry. Because, they moved from Boztepe to city centre and were afraid of the city. Then; we cooperated, set our hearts on and finally achieved together. They were in the Girls' house on the day that the school reports were given. They passed the classes and got 5 certificates of merit and 2 certificates of achievement. They came from the city where they moved dreamingly to Boztepe with an indestructible self-confidence. We hope they will come here again with good news about the university entrance exam. They also hope that we will be with them and stand by them.
We were all at the house on the day that school reports were given. We were hugging and celebrating each other. We wish you could be there with us and saw the glory of attachment. This success was the result of effort, cooperation and love. Why weren't you with us?
In brief; the Young Girls who took the benefits of the house, made us happy this year. Every passing year, they build their knowledge on solid basis and reinforce them. They are doing their homework using both the library and the internet which improve their research techniques.
Our Young Girls' House experience shows the improvement and success of the young girls who are deprived of enough attention and support in schools, in the vicinity and even their house. They prove us that how well they can be hopeful for the future thanks to their self confidence. It's the nature of the beast. As long as they have a little support, they will achieve it since they don't want to suffer, excluded from the society and keep their unequal position for life.
We finally left the winter behind with the inhabitants of Boztepe. We worked and achieved. It's the time to fulfill our promise given to the girls and their mothers. We took our bags with full of farci, pastry, tomatoes, fruits, balls, rope and so on. We're going to Gölbaşı. We got on the buses and arrived Gölbaşı. Most of them saw the lake for the first time thanks to the trip. There were at least 8-9 play grounds and an amusement park. Not only the children but also their mothers run up. The mothers, who could not live their childhood because of the force to get married in their fourteen or fifteen, were as happy as the children. We could apparently the happiness of them when we ride in a mini train to take a stroll and forgot our tiredness. We became more powerful. The girls and their mothers both had fun and realized that there is a huge part of the world apart from theirs'. They received the award of being and struggling together through thick and thin. We wished you could see this beauty. Why weren't you with us?
Our wish is to be together with you and increasing the number of the Young Girls' House and observe the transformation effect of young girls, who benefit from the houses, on their life and our country in the modern values' directions.
July 2006
---
Pleasure in the Young Girls' Home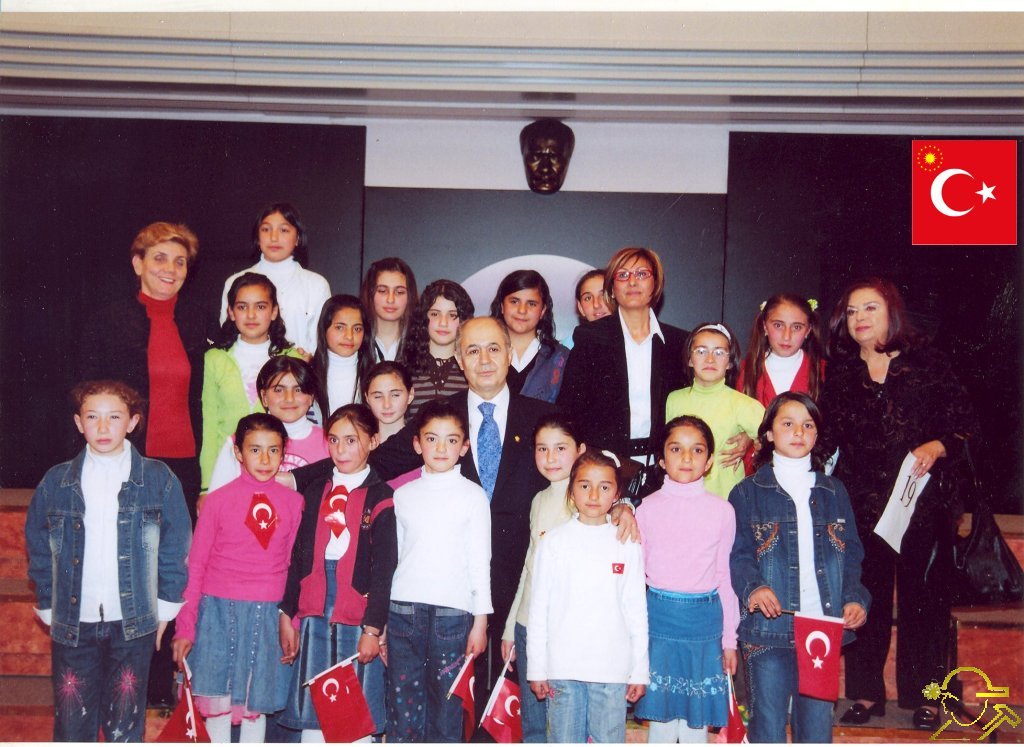 We observed intense mobility in the Young Girls' house. They came earlier and were waiting to come in. Some of them sat on the wall and others were going up and down a ladder. Some of them don't know what to do and want to know that whether there is any change. They usually take care of their clothes but this time it's more than usual. Because it is the April 23, National Sovereignty and Children Day. Atatürk assigned children to carry our independence onward and make the Republic's reach to level of contemporary civilizations.
With this aim, the young girls from Boztepe are going to Çankaya Palace. They will both spent time in the Palace in which Atatürk ruled the country for years and meet the current President of the Republic, Ahmet Necdet Sezer. What a big honour. The honour of the Dear Mr. President got ahead of our Foundation's other studies. The 5. Photograph Contest on Child Labour's exhibition and award ceremony were postponed for a day.
The visit of young girls from Boztepe was, as expected, very nice and impressive. The moments of our sitting in glorious halls, folk dances of performers, the President's speech, a gift for each child and taking photos with the President were unforgettable moments. One of the girl from the group told us; 'Lucky me'. We told her that it's not a luck, it's a product of your sedulity, your efforts to contribute to the country and to overcome all kinds of obstacles.
April 2007
---
The Girls from Boztepe goes on a Culture tour
We have completed the half of the semester and deserved the fifteen day holiday. Tiny 4 grade students, 5th,6th,7th 8th grade students and the others who have already graduated from primary school and now studying at high schools, Anatolian High Schools, Business High Schools, came to the house with screams of joy to show their school reports. The university students crowded into the Foundation to share their success mid-term exam results. Wondering the results of the children' studies, our volunteers and the young, who have completed their education and started to work, were with us. In brief, the young and old alike felt joyful about the success. Then we all decided not to walk but to run in order to achieve and fulfil success.
As being one of the girls from Boztepe, Fatma said 'I think I will enter new year with full of hope. I will leave behind the past. I want to live my life in a good way. I am planning to grow up to be of help to my country, my family, the my beloved ones and others. To achieve this goal, I will do my best. I will never say that 'I couldn't achieve this' but will say 'I should achieve.'. Praising myself doesn't make me successful. So, I will criticise myself. There is no one in my family with a profession. Why not me ? Some say that 'why do the girls study. It's better for them to stay at home and do the housework.' I don't like these sentences. Women are also the member of this nation. Atatürk said ' The men and women are equal'. A contemporary nation is a nation with equality of men and women. I will prove the ones,who say that the girls shouldn't study, are mistaken.
Our young girls,even if they are living a small area and don't travel the rest of the world beyond their neighbourhood except the culture tours, have broad perspectives. They watch the television and know what's what. One of them says "In new year, I desire the world become in mint condition. I wish the hole parts of the ozone layer, miraculously, could be covered and 'global warming' would never be heard again.I wish the economic would come to the conclusion and our country would be developed. I wish new inventions could be made and the wars could be finalised and child deaths could be finished."
Süreyya says 'I sorrow from the employment as one of the topics of my area of interests. I don't understand why the employers dismiss the employees without any reason. Moreover, they don't hire them again. I wish this would never happen again. I feel sorry when a journalist ask someone 'For how many years have you been unemployed ?' and receives the answer as 'For almost a year'.
Pelin also agrees Süreyya. And then she adds, 'Do they know how the fathers, who could not bring home the bacon, feel sorry ? Isn't it incompatible with human rights ? Where is the equality of human beings and children ?
We totally agree with the girls and say 'yes, you're right.'. Then we add "We have opportunity to correct the mistakes. But we need to work hard. We shouldn't relieved ourselves with buck passing. We shouldn't wait without participating in and let others to do it. We can not achieve our goals and change our world with complaining and blaming others.". We repeat together in high spirit "We trust ourselves, our togetherness, solidarity, the goals we already fulfil and the goals we will fulfil. "
The girls at Boztepe, in the half term, as usual, came in contact with the city and art. However, this year, we have a surprise for them. Our new volunteer Ayşe Kandamar met with the Opera Manager Erdoğan Davran and Duygu İnandık Örnek and provide opportunity for our girls to go to theatre for two acts at State Opera and Ballet at Ostim Leyla Gencer Theatre. It's happened to the older girls before but was the first time for the 4th and 5th grades. They were really excited.
The bus send by Çankaya Municipality took our girls from Boztepe to Ostim. We thank to them for this solidarity. The first one was 'Happy Prince' with music,sorrow, lessons for our daily life as a visual fest. Our young girls were glad and enjoyed the play. The second one was a ballet and a slide show about global warming. Our girls met with the ballet for the first time. Their portrait of astonishment mixed with the happiness was worth-seeing. Apparently, it was the award for us.
February 2010
---
The Girls Pursue to Codetermination
In Ankara, one can go from Kızılay to Koley in 5 minutes on foot. There is Kurtuluş Parkı on one side, and Vedat Dalokay Conjugal Home on the other. On one side there is a building formerly of TED Collage but currently of Çankaya Municipality and five-star and foreign-invested hotel. If you turn right and walk for 15 minutes, you will arrive Türközü and after five minutes Boztepe. However, you will observe and realize the differences of the environment. Now, you arrive the shanties which decorated itself with greenery. You can also see the luxurious apartments when raise your head. However, Boztepe is attractive neither for the Housing Development Agency of Turkey nor for the building constructors. So, it is still a haven for poor people. Boztepe inhabitants are experiencing the village life in town. Impossibilities prevent their integration with the city. The things, which are normal for the city dwellers, are dreams for the people from Boztepe. The education level of the inhabitant women is really low. Moreover, some of them don't know how to read and write. Since, they are received sentence to a specific goal and to home by their parents and the society. However, neither they, nor their daughters want to keep on this destiny. At this conjuncture, the importance of the Young Girls' Home becomes apparent. Accordingly, it's understandable that how the volunteers and our foundation are appropriated, respected and showed love. Also, it becomes understandable why the young girls express their warm feelings for the Foundation with their poems.
Obviously, our target is to make the young girls integrated with the city and contemporary life style and to support them in terms of education to make them gain a respectful seat in society and work life.
For eight years, we have been working for this area. Even during the most tired periods for our volunteers and most discouraged period because of the country's course of events, we clearly observe the success of our girls' which makes us think that the great efforts made for the girls are worthy.
One day in September, our volunteers were in a hurry to make the preparations ready for the young girls. However, they were nowhere to be found. We were ready for them with fruits, cakes and were waiting for them. After a while, some of them are appeared. They were really excited, out of breath and speaking in unison. Eventually, we understood the thing they were excited for. There would be an election for Student Representative Board and Tuğba, from the Young Girls' Home, would be a candidate of it. They were excited and support their friend and endeavouring for Tuğba to win the election. That's incredible. It's a remarkable development.
Tuğba is a 7th degree student, self-confident and deary young girl. Çiğdem explains why she support Tuğba:
– I know her,
– Her behaviours and habits are good example for us.
– The things that she is planning to do are thrilling.
Another friend of her, Nazlı, said she believed Tuğba who keeps her promises. Tuğba was explaining what she would do if she becomes "the Head of Student Representative Board"(pls look at box 1.) She was self-confident and knew what she wants, was not hesitating to struggle and not self-derogatory. Naciye also told us that she is studying hard and deserve being the Head. Before, she won the elections of "The Young Girl of the Week" many times thanks to her warm relations with other girls, sedateness and sedulity.
Unhappily, Tuğba couldn't win the elections. Mehmet became the Head. Tuğba was the second from all five candidates took part in the election. This success brought her to be "Vice president of the Student Assembly". She was in high spirit and told "I will be a candidate next year. I will correct my mistakes and never give up. Next time, you will see my success.". Her friends were still encouraging her via saying "Next year, we will also work harder and explain the importance of the young girls in co-determination. We are determined to overcome to obstacles to stop our mothers and change the destiny of us.". They told us "To believe is the only way of success and we believe it. We will achieve it."
We sure that our young girls at Boztepe will achieve thanks to their consciousness and persistence and we believe in them.
January 2011
---
Excitement in Boztepe
I
No need to hurry for school reports
Since 2003, we have been together with our young girls in Boztepe (Türközü,Ankara). Our togetherness intensively starts from the 4th grade of the primary school to the end of the 8th grade. Then we do not forget each other but come together when we have troubles or on special occasions. We become happy and proud when hear our girls' success stories and their steps for their goals.
The last days of the semesters are this kind of days. The girls, studying at Anatolian High Schools, Business Schools and Regular High Schools come to the home and are also successful. They don't make us disappointed
The Young Girls' home contributed to the girls to study (and then have fun ), to experience and maintain the success in education. While waiting to receive their school reports, there is no fear or panic of our girls who studied regularly, made effort and do the extra mile for their lessons. They are self confident and believe that they will receive good results. The children', who study regularly during the academic year, make effort to improve themselves and dream their future when they go to bed, school reports are always fulled with high grades. They don't even wonder the results on report thanks to estimation of mid terms exam grades. The excitement is arisen from "getting older", "going one step further" and "raising the bar".
Still, young girls run to our home with their school reports. Our volunteers has already became ready to celebration party. The cakes, pastries and others are waiting for the children. When they come, they were talking in unison and the home became as loud as thunder. Two days ago, they were studying silently and waiting each other to take place to speak. But now, it's time to have fling, play games, sing songs and then to get ready for the next academic semester.
II
Sensation via sounds
In Boztepe, there is never a dull moment. Each and every activity different from our girls' routine makes them very excited. We often go to State Opera and Ballet. These kind of activities such as opera, ballet, theater and art in general arouse the girls' attention. The activities are realized via harmony and cooperation of our volunteers. Thanks to our volunteer Ayşe Kandamar's effort, Ankara Office of State Opera and Ballet provided tickets for the girls, the Çankaya Municipality provide a bus for girls to be go the opera. Also our volunteers participate our activities to be with the girls. The activities arouse not only the girls' attention but also their mothers'. The art is so magical that it excites everyone's interest.
Explaining her impression, one of our girls, Ebru Mendilli, says "We watched, saw and understood the that the sounds is a great part of our lives. Hümeysa Nur A. adds "During the opera, I was really excited, happy and joyful. Arzu Şimşek takes the floor; "They are all beautiful and special. When I understand and observe the Anatolia, I become happy.". Duygu Beyaz says "I also have been in theater before. Still, I was ready before the buses arrive the home. When we arrive, we sat down and started to wait. The bell rung and the opera hall became silent. I started to listen fabulous voices. The name of the musical was Anatolia with Sounds.".
Let's read the chapters of Anatolia with Sounds written by Tuğba S.,
Folk songs for the nights of henna,

Köroğlu's folk song,

Urfa folk song,

Day and night folk song,

The lives of Karagöz and Hacivat,

The songs of Istanbul,

Hoş gelişler ola Mustafa Kemal Paşa,
Çiğdem Sonay C has the last word "It was really nice. I was fascinated with the dancers with their lithe treads. Due to the effect of this fascination, I was out of break during the show. At the end, I was really happy. I became happier when we were complimented on our best behaviour and watching the show as it must be.
III
March 8th, International Women's Day
"I know what I'd do."
Tuğba U. described the International Women's Day as a symbol of the freedom of women. All girls are conscious of the importance of the day and the rights given to them. Nur E. says that she could not receive a response for the question which is "Many women in the world are lambasted and murdered. What is the reason for it? We still can not receive its answer."
While mentioning the equality between men and women, Hatice I. can not associate the equality and torture of men to women.She says "They still lay a hand on women. For me, as being a women, we can not leave it unpunished. Women are also guilty since they don't complain from the men's beating. The International Women's Day is so important for us that we can take a deep breath at least,once a year. Some say that 'be patient' for these women who are beated by their husbands. How can a woman be patient? Even if she gets divorced, her husband tags after. If I experience such kind of behaviour, I will file a suit. If he doesn't stop to tag after me, I know what I'd do."
The young girls give us hope. We celebrate their and their mothers' International Women's Day. They say "We ca take breath at least once a year.". This is not enough.
IV
"Come to think of me as a Prime Minister"
The most important value that we want to engrain in our girls is the consciousness of citizenship. Being a citizen does not only mean to undertake the responsibilities but to accept the rights arisen from being a human being. One of the reasons of existence of Young Girls' Home is that provide training – which is their fundamental right- for the young girls, to help them to overcome the gender inequalities in society and to make them actively participate to the social life.
The effects of our efforts on young girls are seen only via some events and their compositions. Candidature of Tuğba to the Student Representation Board is one of the evidences. Another one is the answers of this question "What would you do if you became prime minister?"
Opening up the girls' horizon, which oversteps the limits of Boztepe, is one of our targets. Their belief on the equality of women and men in the country and the educational success in line with their sedulity, capacity and abilities is really crucial. However, before anything else, they need to comprehend that they are "citizens".
One of the evidences which is a sign of our girls' effort for these targets listed above is their plans for the others in the society. We wonder whether we could manage to train them? In order to find the answer, we ask them "What would you do if you became prime minister?".
Ecem C. says "I would know that I can not solve the problems of the country through arguing with the other party leaders, coming to blows, evil tongue. Coming together with the other party leaders, I would try to come up with new ideas for the problems and expect them to listen to and understand me. I would listen their criticisms about my ideas and then discuss it without fighting.".
Sevilay Ö. says "I would do something for the violence against women. For example, I could organize campaigns, fund-raise them and find a place as women's shelter. In there, I would only welcome and host the women who were subjected to violence. I could try to protect them. Then I could do one more thing for them : Finding a job for women who don't and can't work.
Tuğba S. says "I would try to make the girls, who live in the countryside and are forced for the milking, working in the field instead of going to school and for child marriage, educated creating a campaign.
Hande B. says "If I were the prime minister, my first study would be the troubleshooting of the education system which I really don't like. Some say that it is turning into the American type education system. The thing I don't understand is that authorities states that the number of the entrance exams for the high schools, universities and so on will be decreased and the weekly course hours will also be decreased. However, the hours for the physical education lectures were increased from 1 hour to 2 hours. In this country, nothing performs well. What if the Minister of National Education ask us the problems instead of trying to solve it himself?"
Hatice İ. says "If I were prime minister, I would stick with the educate children in order to enable the improvement of Turkey. I could set up workshops for science in Turkey. I would contribute the success of a scientist. Via working for the development of Turkey, I would try to attract scientists to migrate to Turkey.".
Tuğba U.says "I would try to raise young scientists in order to make Turkey developed. I would provide janitors for schools instead of collecting money from the students. I would organize exhibitions and set book campaigns. I would provide a garbage man for each neighbourhood and make the garbage collected each day. I would organize trip to historical places each weekend.".
We admire the view points of the Young Girls', from Boztepe which is defined as slum area, their attitudes for the problems and their dynamism. They put emphasis on the problems about our future (education, science and technology) as much as they did on daily problems (violence against women, collection of garbage and unemployment of the fathers).
In this country, the intelligentsia have a lot to do. They, who can easily reach the source of information and have authority to its redistribution, must be more sensitive. They must increase the number of the centres like Young Girls' Home and lead them up. Creating new working areas and going towards to Research and Development, they mus redistribute the hope to the country level.
Intelligentsia must examine the concept of "social responsibility" and present the way for its implementation.
May 2011
---
The dreams are realized in the Young Girls' Home.
Everywhere is cold. Not only in Ankara but also in other cities in Turkey, people struggle with the snow. In our Young Girls' Home, we use two coal burning stove as residential heating which need a lot of coal and wood. Most of the house in Boztepe could be heated in late afternoon. They don't earn enough money. One of the mothers here says "Thanks to you, our children stay warm and do their homework."
We believe that our girls are intended on riding the storm. They enjoy the beauty of success, self-confidence, solidarity and achieving some goals together, cooperation. So, they are not demoralised by the snow or cold. It's still snowing outside. The girls with their red hands due to the cold weather, brought their school reports and their certificate of merit and certificate of appreciation with sparkling eyes and laughings. This source of happiness has never changed since nine years. Then the older girls who are send off to the vocational high schools, Anatolian high schools came to visit us. Their reports were also full of high grades. They were also successful. They again came together.
When we moved into deep conversation, one of our volunteer Ayşe asked to the older girls "what are reasons for your success and what are your experiences ?" Now we have experienced and successful girls who can take as example. Hande took the first floor as a 9th grade student. Hande has always received school reports with certificate of merit. However, she couldn't received any certificate this year. She started with saying that "I know the reasons of this situation. I couldn't maintained to work systematically.". And then she explained where and what she did wrong. "When I was in Young Girls' Home, I was studying systematically regularly and was asking the topics which I couldn't understand to the older. The most important was to be with them,take support for all and to learn new ropes. I call it 'to see the life. You'll see that I will receive certificate of merit at the end of academic year.".
Sevilay says "I also want to say something. I came here when I was studying at 4th grade. However, I and my three friends were bad at lectures. We couldn't know how to catch the lectures and the other student in class. Still, they trusted us and taught for lectures and how to study regularly. But they really trusted us. They always treated us warmly and kindly. Now I am studying 8th grade and am very good at school."
Kübra says "She is right. We discovered the pleasure of studying. They set us homework as 'write a paragraph about the news'. I and my friend got bored due to this homework. Then we learned a lot about the children rights, women's rights, health and education rights etc. We realised the importance and contribution of learning and being aware. We understood what can we lost if we don't protect our rights.".
Hatice added the benefits of studying regularly and repeating the topics taught by teachers in the class.
Then Aylin took the floor and started to narrate the day in which she has first visit the Young Girls' Home. "While Mrs. Fişek and my mother were talking, I started to draw a picture on the blackboard. When Mrs. Fişek saw the painting, she brought pastels and a drawing book for me and she added 'It is really beautiful. Please show me all your paintings.' . I think it was the support which encouraged me to choose to study in Occupational High School.". While she was speaking, she also showed her drawing to us.
She continued "During the four years here, I also sometimes faltered. I have learned so much that I couldn't know where to use them . This year, a competition was organized on graphic design and photography across Turkey. Here, the one of the most important thing we taught was self confidence. Then I said "Why not?" and decided to join the contest with a photo frame. Then the knowledge we were taught for years helped me a lot.".
She narrowed us how she could took the photo, how could she made it printed, how she could went the other districts of Ankara, how she could submit her photograph and the feeling of being 28. in the competition across Turkey. Then she showed the present, a tripod, she gained from the competition. Ignoring the our young girls' confused and admired looks, she installed the tripod and explained what does is do. However, it was not the last. Aylin also won Mehmet Aslan Güven Jury' Special Award. What a nice coincidence. As being one of the Jury member of our Photography Contest on Child Labour since eight years, Mehmet Aslan Güven is also with us and our Young Girls in Boztepe.
Little 4th grade, 5th,6th, 7th and 8th grade girls listened their elder sisters with honor. One of them said "If they could do, we can also do.". The others agreed. The girls of Boztepe don't look on the city from the hills. They are aware that the city is not unreachable. They will study, achieve and break the chains. Like their elder sisters, our young girls want to respond pertinaciously the people who says ' That's life. It's inevitable.' with the sentence as 'That's life. It's evitable.'. The girls came here to show their school reports but we were together for three hours.
---
The students from High School meet the Working Children
Everywhere got dark. When one looks at the newspapers, especially colored one, it's not possible to find news which gives a little bit of hope in terms of human beings and individual relations. Each of us thinks his/her self interest. We always say 'always me' and everyone tries to crush the others. Then we say 'Rotten apple spoils the barrel' and feel scared.
Suddenly, there appears a young faces which gladden our hearts in the middle of the darkness. The young not only live in a world of their own but also are conscious aware of the others' suffers, hear their voices and think about the solutions for the problems. One or another they, these young girls will grow out, overflow and try to change the world. The flag pass into other hands.
Yağmur Sarar is 16 years old. She chose the topic of 'child labor' as a social responsibility project in school and prepares an introductory video film of the exhibited photographs of our 'Photography Contest on Child Labor'. She presents it with both her friends and with us via internet.
Yaren Pehlivan is yet 13 years old. She shared her presentation about 'child labor' and 'our Foundation' with her friends and teachers in her school. In addition, she unifies her presentation with the exhibition of the selected photographs and caricatures hold by our Foundation. These photographs, before has exhibited in different universities of Turkey, were exhibited at Ankara Tevfik Fikret High School to be met with the students.
After listening Yaren and visiting the exhibition, Aynur described the exhibition as 'highly informative and didactic' and said 'what a favour for the working children'. It's true. The working children, due to long working hours, are both out of sight and out of mind. You will be their public speaker.
Deniz says "It was a perfect presentation. I think it was very helpful for the many of us, who don't have enough knowledge about the Foundation. Besides, it was a successful presentation. We all became glad to be here and learn about this important issue.
One of the teachers of her, Alperi Yavaş says 'I am proud of her due to her self confidence and the her effective use of the language and hope she will maintain her sensitivity for this important topic.'
Another teacher, Berna Sungur adds that the presentation which is obviously prepared attentively was very successful. She hopes the number of the students who are interested in social problems.
Our youngest volunteer Yaren says "There are many presentations presented in our school and each them are really beneficial, helpful and didactic. I also contributed these presentations. I introduced the Fisek Institute Science & Action Foundation for Child Labor to my friends. Actually we, as children, are aware of many things but we don't know them deeply. There is a need for people and groups to be leaders for us to know. In terms of the leadership, I believe that the Foundation is really beneficial. Although I have been trying to do something to help the Foundation for 7 years, I still learn and share something at every turn. I get familiarize the life in Boztepe and meet my peers. When we come together with them, I contribute my humanity. I know that they are not as lucky as us. Maybe that's the reason but anyway, I will always try to help them during the rest of my life. I am sure, thanks to this presentation, I explained many things to my friends. At the end they all congratulated and thanked. Now I want to thank to my teachers and foundation volunteers who helped me to share this presentation with my friends.
We also thank both the director and the teachers of Ankara Tevfik Fikret High School and the directors and the teachers of the İstanbul Eyüboğlu Educational Institutions as being supportive for their students.
Yaren says "I learn and share with others". It's the key word. As long as the young all do it, we are ready to transfer what we have in our hands and hearts with our knowledge store. Because we know that, we will pass the torch to the young girls.
The Friendship, Beauty, Solidarity and Sharing are in Progress.
The Friendship
It's crucial for the children who live in different conditions and study in different grades to know each other. Today, there are many people eager to deepen the differences between two groups. They are trying to hide the irregularities using the other irregularities in order to mislead the society.
Making friends.. Setting sail for new horizons.
The students from Nesibe Aydın Primary School and our young girls in Boztepe presented such kind of meeting and interaction. The interviews, games and meals eaten together has stiffen the friendship. First, a group of young girls from Nesibe Aydın Primary School came to Boztepe. This year, thanks to their invitation, the young girls from Boztepe visited the Nesibe Aydın Primary School in Gölbaşı. We would like to express our thanks to the teachers and the students of Nesibe Aydın Primary School for their cooperation. We hope that this will become intensify within years.
Thank you our Friends
We are in the same boat. We need to be together during the development process. A letter or a few words represent our deep feelings and the history of our friendship. One of them is a letter written by Ümit Sarıaslan. We would like to bolster your morale via sharing this message,
"Dear Friend, Valuable Citizen, Responsible Highbrow"
Thank you. Since the first time I have read the first issue, you are indispensable in terms of tboth the articles and literature and being an example with their quality and academic level. So glad we have you and you have founded this solidarity which will develop in years. It will develop and transform to an Anatolian festival which is effective, friendly, pleasant and honorable. I expressed all that jazz with increasing feeling of consciousness and sensitivity. What I said are really said wholeheartedly.
You again stroke at the heart of the readers thanks to the last issue. I am talking about the unforgettable short story named "Two and a half". In addition to our dreams on writing about it and waiting for its publication via different media organs, I wanted to share the notes that I took on the journal while I was reading it.
Let alone the waiting burden of the response to your article called 'Coming Events Cast Their Shadows before' which has written since the beginning of 2008, if I delay the sincere greetings, the shame will be intensified. I am really sorry and ashamed because of not recognizing and not reading the stories of him. All aside, I want to send my love and respect to the author who masterfully blend our language and the sensitivity to our language and makes us experience the feast of language and expression. This is a golden story must be read now and then.
I don't want to be unfair to R.Halit, R.Nuri,K.Bilbaşar,O.Kemal,F.Baykurt, Sait Faik, Haldun Taner, O. Kutlar, Y. Atılgan, E. Öz, S. Soysal. However, this one as striking as the others and writing in plain language as others. It stands like a language epic and narration monument which is based on the historical and social deepness covered in two column. It looks like the ones of Ömer Seyfettin. The history of the story stands on a firm footing.
I am talking about the writers who animate the language like the writer of this story not the distortionists. I present my compliments to both you and the writer. Sincerely. Ümit Sarıaslan."
The Beauty
(The new 4th grades' time has come)
The girls who received their school report of 3th grade and their mothers got the Young Girls' House in no time flat. They both registered and will benefit from the summer activities. The ones who previously listen the activities and studies done in the Home and who just watch everything on the wall are welcomed. We hope the same for the youngers.
The Solidarity
(The best implementation in Occupational Health and Safety)
The implementation of Joint Health and Safety Unit developed by Fişek Institute since 1982 for the workplace is still maintained. It is a source of inspiration to regulations of Ministry of Labor and Social Security, restructuring of the Directorate of the Institute of Occupational Health and Safety and to support services via mobile rontgen and physical examination vehicles .
The Institution broke grounds thanks to this implementation:
1982: The voluntary and joint utilization of small scale enterprises from occupational physicians,
1984: The internalization of the working children as a focus group,
1992: Supports of the services thanks to the mobile units(physical examination, rontgen, audiometer, spirometry)
1992: Publication of a periodical (Working Environment Periodical) to bring together the ones who study on Worker's Health and Safety and to make enable to share the knowledge and experiences.
1994: The delivery of the service done by the occupational safety specialist together with the service of workplace doctor and the study on occupational health exhibition hall.
1997: The establishment of the Foundation on Child Labor
2007: The establishment of the Voluntary Occupational Health and Safety Consultative Committee with the participation of small scale enterprises.
These initiatives brought the right to take place in the Best Practice Exhibition of United Nations Human Settlement Conference in 1996 and the Certificate of Appreciation of Turkish Presidency.
It's the collection of efforts which is really strong. Since it meets an important requirement and both employees and employers are awake to it. This kind of implementation due to presented standards enable lower level implementations develop.
After the implementation of 2007 Joint Health Safety Unity of the Ministry of Labor and Social Security, the number of workplace employing more then 50 employees has increased. Their intention to hire occupational safety engineers has increased. This led visual tests, blood analysis, porter reports, Occupational Health and Safety risk evaluations and trainings. The enlargement of the range of services offered enabled the services mentioned to be served according to the features of the work place. Both costs and the services condescend to visit their work place abolished the excuses and increased the usage.
That's why the best practice develop in Fişek Institute. We express our sincere thanks to the contributors.
Sharing
Başak Çetin exhibited her photographs between 27-30 May 2011 at Ankara Çankaya Contemporary Arts Center.
Başak Çetin has been publishing her photographs and travel writings on www.yutmografım.com for years. Now we are have an anthology. There are photographs selected from Yutmograf and her poems to enrich the photographs.
We express our sincere thanks to Başak for her eye pleasing exhibition and for being thoughtful for the working children.
Stay with love
Basak & Yutmi
---
Eleven Years of Young Girls' Home
"Sustainability" as a key principle of the studies done in the community has mainly taken into the account by Fişek Institute Science & Action Foundation for Child Labor during the social projects since the beginning. The Young Girls' Home which is started without contribution taken from any institution became one of the leading projects from the successful projects realized in the Foundation's eleven year.
Within the scope of "The concept of Urban Home", it's aimed that to make the young girls hold on to the school, improve their success and acquire a profession in Ankara-Türközü-Boztepe. We didn't lose sight of the mothers but support them from the cultural activities to their hand labor.
The Our Young Girls' success were higher then the ones who doesn't attend our Home and the studies. The teachers in school always put an emphasis on this issue and encourage them to attend the studies of Fişek Foundation Young Girls' Home.
The Young Girls' Home not only socialized with the young girls and their mothers but also aroused respect in the neighborhood and became integrated. The most important reason of its eleven-year survival of the Home is the ownage of the inhabitants. The Young Girls succeeded in their schools and the competitive examinations. Now, three of them are studying in university. One of them is the making of being the first engineer. The number of the young girls who carry on the path of studying is 120.
However, we experienced the difficulties proceed from the outside. The first difficulty is the insistence of the Prime minister about "three-five children". The families with two children decided to have the third baby. Besides their young girls had to take care of their newborn siblings. This led to an interruption for their education and decreased the level of success.
The positive relations established with the imam of the mosque couldn't continued with the newcomer imam after the former imam's death. Although we faced with smear campaign and deterring, we achieved to overcome thanks to the resistance of the inhabitants and the families of our young girls'.
The one we couldn't achieve to overcome and sounds the death knell for the our Young Girls' Home is the education law called "4+4+4".
Young Girls' Home, in November 2003, opened its doors to the students from 4th to 8th grade in primary school. We take care of the participant girls' attendance to the Home beginning from the 4th grade and without interruptions. It was necessary for them both to learn the roots of the lectures and to gain study discipline, self confidence, solidarity and cultural richness. This prerequisite was one of the important pillar of the success. Girls, after the school, were used to arrive Young Girls' Home and spend their 1,5 hours for their lectures and home works after the breakfast.
The implementation of the 4+4+4 Law has changed the situation in Boztepe. The nearest school to our Home was devoted for the first four grades students. The students studying in the second 4 grades were send to another school far from the Boztepe. It was questionable that how the families could send the girls the school there. The obvious result of this was that it became impossible for girls to arrive the Home before it gets dark and to spare time for the educational support.
Unfortunately, after the graduation of our last 8th grade students from primary school, the Young Girls' Home is left in May 2014.
We would like to thank to volunteers, young girls and their families and the inhabitants who internalized the Home for passing this experience to the "Progress-Regress Struggle" history.
We wish all young girls and boys success for the new school year. Best Wishes.
---
Cocoon of Love
By : Oya Fisek
(President, Fisek Institute Science and Action Foundation for Child Labour)
It was a Tuesday. Everyone who heard about our Science and Action Foundation for Child Labour knows that the volunteers of the foundation had two weekly meetings: Tuesdays and Fridays. We consider these days as the days of production and we work hard. That Tuesday I was fully immersed in work again when I was interrupted hearing the call "Aunt Oya". Only the young girls of Boztepe called me "Aunt Oya".
Suddenly my mind and heart flew back to Boztepe, to year 2003. I took a stroll down the memory lane when we repaired the tumbledown shanty house, cleaned its little garden, turned it into a whitewashed house with purple doors and opened it up to our girls with enthusiasm.
It is year 2015 now… It's a Tuesday. It has been 12 years since… According to our records more than one hundred and fifty girls started their new lives with new hopes. I wonder which one is out there calling me "Aunt Oya". Hatice and Çiğdem the anaesthetists, Aylin the graphic designer, Fatma the accountant, Cansu the food engineer, Neslihan the nurse, Hande from land registry and cadastrate, Yağmur from press, Ayça the infant teacher, Çağla and Ayşegül the computer specialists… Oh God, the young girls of Boztepe arrive before me from many years ago. Their voices calling "Aunt Oya", "Aunt Jale" fill my heart. In our first days the girls of Boztepe called us "Paternal Aunt" to show their love. "Why paternal aunt?" I asked them. They replied, "because the higher esteemed aunt is the paternal aunt: the sister of the father." and when I asked "Why not (maternal) aunt?" I received the reply, "Paternal aunt is more esteemed". This answer hurt my heart. This unquestioned conceding, this fact that the girls consider themselves as having a secondary role was the first thing they needed to change about their lives. Our first subject of our first class was "the human rights and the struggle of women". Since that day our girls have always called me "aunt" as if they promised each other to do so. What we explained to them about women rights spread abroad throughout Boztepe. International Women's Day was celebrated annually in the House of the Young Girls'.
Which of our girls was the one calling to me "Aunt Oya" beyond years? She ran towards me to fall on my neck. We used to call this embracing "The Cocoon of Love". Then she quickly held her friend by the hand to bring her by me. "Zeynep, you may hug Aunt Oya, too." Let's make a cocoon of love.
"Aunt Oya, it's been 8 years. You were always on my mind. However, I could not come to you anyhow. Not a single day passed without me mentioning the house of the young girls'. My classmates at the university don't believe me. They can't picture such a happy childhood. I brought one of them with me so she gets to know you and witness our conversation."
She said all in one breath as if someone would interrupt her, as if she had a shushed hunger to tell: "Not a single play was left which we didn't watch with you, not a single playpen we didn't visit. We even visited the President of the Republic on April 23rd The National Soveriginty and Children's Day. You gave us so much confidence, you paid so much attention to our classes… Tens of our friends graduated to become employed women. I always studied. You came to my mind at each single moment I wavered. Now I and my friend are 3rd grade students in the International Relations Faculty of Gazi University. I will be graduating next year. I want to be a diplomat and work abroad. That's why I study hard."
I was listening to her with admiration. What a lovely young girl! We wanted to change their lives and it is a great prize to see again and again that we managed to do it. When we stepped into this shanty town in 2003 there was not a single person there who could picture these girls as students in vocational high schools or universities. The Uncle Osman of Boztepe (our neighbour) had told us when we first arrived: "Not even boys can go to school here. How can the girls do that?" When we were leaving Boztepe in 2014 Uncle Osman came to us to say "May God bless you. These girls are our pride and joy." There is still not one single boy, chasing the football, who could match their success. But the girls, the young girls of Boztepe…
"Aunt Oya… Trust us, none of your efforts for us has gone to waste. Each one of us work hard to be a young girl worthy of your esteem. We are enthused every time we recall those great moments of childhood you made possible for us."
We embrace each other. Their enthusiasm enthuses us… We regard ourselves successful and become happy as we listen to their stories of success. All power to your elbows, our dear girls.