January 1 – December 31, 2005
Publications:
1. Our "Working Environment" magazine saw the 83th issue at the end of year 2005. We are proud to have one of the longest running magazines in the field of "Child Labour" and "Occupational Health and Safety". It is distributed free of charge to the Unions, private companies, NGOs, Public Libraries and Universities. By reaching a large number of readers "Working Environment" magazine is fullfilling our Foundation"s responsibilty of raising public awareness and sharing of knowledge with public…
2. We started to publish the "memorial institutions series of the Republic". They are our pride. The story of passage from monarchy to Republic, from darkness to enlightment, from slavery to freedom is told in the history of these institutions. A lot of memorial institutions of the republic are established to complete the National Liberty War and to continue the reforms of Ataturk. In this context:
2.1 "An NGO to constitute the policy of child prosperity in Republic: Turkish Children Protection Association (1921-1981)" by Hakan Acar is published.
2.2 "The Primal Institution for Protective Health in Turkey: Hıfzıssıhha School and Nusret H. Fişek (1958-1965) " by Ali Eren Doğan is published.
"Our "Friends of Child Labour" Campaign :
We started a campaign for the ones who would like to have our publications and / or donate to our efforts. A yearly donation of 40 YTL will make you "our friend of child labour" who can easily follow our publications. We thank each and every one who inspired and helped us to increase the life standard of the working children by their donations.
Photography Contest on Child Labour :
The jury for the 3rd photography contest met at the head quarters of our foundation on the 25th of march, 2005. With the participation of Ozan Sağdıç, Mehmet Aslan Güven, Adnan Polat, Erol Karaca and A.Gürhan Fişek as members of jury, the meeting proceeded as the works of photographers that are equal in quality competed with each other. We congratulate both the winners and the ones whose photographs were exhibited. Unfortunately, with these photographs, our archive that proofs the existence of chld labour in our country is growing every year. We made a call for the new competition and are waiting for participation.
Meetings and Artistic Activities:
PAINTING EXHIBITIONS: You can view all paintings on our web-site.
3-28 January – Mert Şener Exhibition
31 january-25 February – Yusuf Şener Exhibition
1-28 March – Lütfi Gür Exhibition
1-22 April – İrem and Cahit Kalenderoğlu "Father and Daughter" Photograph and Painting Exhibition
25 April-7 May – Selected Works from the II. Photography Contest on Child Labour
9-14 May – Pervin Bayraktar " Collections of Time" Exhibition
17 May- 1 October – Başak çetin and her "Balıkadam" diver friends",The Blue World Photoghraphy Exhibition
1 October – Father, Son and Grandson Exhibition (The çangas)
1-26 November – 6th Health Workers Exhibition
Alper çanga
Arzu Odabaşıoğlu
Aysu Koçak
Başak Soyluoğlu
Bilge Heper
Bülent Aytaç
Fatma çokyücel
İclal Karaçete
Neslihan Eroğlu
Ömür Demirezer
Rana Güven
Sema Efe
Şebnem Eren
Tuncay Özdemir
Zeliha Akdemir
Zeynep Eren
6-30 December – Hatice Aykanat Exhibition
SLIDE SHOWS:
21st October – "Antic Ankara" slide show.
TALKS AND PANEL DISCUSSIONS :
17 FEBRUARY : By İlkay Savcı :Thursday Talk titled "Being a woman in prison"
24 March – Music and Poem together at World Poem Day (with participation of Osman Bolulu, çiğdem Sezer)
21 April – Thursday Talk titled "Children convicted of sexual crimes" by Yıldız Baykara Acar
Participations and Contributions:
8 October – Oya Fişek participated as our representative to the activity organised by Foundation for Freedom of Children Again.

Alparslan Kara participated as our representative to the workshop and seminar organised by EU/TAIEX on Occupanional Safety and Health.

6 April, 10 October, 22 December : Our Foundation was invited as the representative of NGOs to the First National Council of Occupational Health and Safety Meeting, organised by Ministry of Social Security and Employment. "Directive Draft on Priciples and Methods of Council Study" prepared as the result of this meeting, was evaluated during the meetings and at the redaction committee studies after. Prof. Dr. Gürhan Fişek took part as the representative of our Foundation, who also took part at the preaparation of this Council.

15-17 November : Our Foundation participated in the International Regional Conference for Occupanional Health and Safety, organised once every two years by the Ministry of Social Security and Employment. The posters and our publications on our stand were widely appreciated. Also Prof. Dr. Gürhan Fişek delivered a speech titled "Small business joint health and safety unit".

17 November : A conference on "Social Dimension of Medical Science" by Prof.Dr.A.Gürhan Fişek was given to the 2nd year students of Ankara University Faculty of Medicine as a part of their public health education.

3 December : Prof.Dr.A.Gürhan Fişek was invited as a guest speaker to the 10th Congress of Adolescent Psychology and Psychiatry, organised by Aegean University, to deliver a paper titled, "What are working children and youth looking for?" He explained the expectations of the society and our foundation"s activities to answer these.

5-6 December : A representative was invited to the meeting on social alienation, titled, "Social Exclusion Alleviation: Evidence from Suburbs of Large Cities in Turkey" (Supported by European Union / TAIEX ) organised by Bosphorous University. Ms. Şenay Gökbayrak represented our foundation.

23 December : Prof. Dr. A. Gürhan Fişek delivered a speech to the teaching staff of Gazi University Faculty of Medecine Children Health and illnesses main science branch, titled " Brain Migration".
Visits :
As each year, the senior year students of Ankara University, Faculty of Political Science, Labor Economy and Endustrial Relations Department, visited our foundation to get information about our activities on the subject of "Working Children".

Mr. Ali Kapusuz, responsible for Regional Components of Ministry of State Project for Diminishing Social Risk, visited our foundation to give information about his activities and asked for our contribution. As a result of his suggestion, we accepted to participate at the Committee of Guidance for "Regional Components" part of the project, as a representative of NGOs.

14 March : Henrik Brade Johansen, Jakop Kirkemann Hansen and Kristine Yigen, from Danish Human rights Institiute visited our Foundation and were briefed about our activities.

28 April : İSAG (Strengthening the Center of Occupanional Safety and Health) Project Team of Ministry of Labor and Social Security, funded by European Union, together with their team leader Mr. Baranski, visited our Institute. Prof. A. Gürhan Fişek welcomed them at our Occupational Health and Safety Unit at Sincan, briefed them about the activities of the institution on occupational health and safety and environment. He also guided them on tours of some of the participating business venues.

14 September -21 October : The students of Ankara University, Faculty of Medicine, second term, as a part of their public health education, visit the NGOs working on similar subjects. As in 2004, the Faculty included our Foundations activities in the curriculum by redular visits to our sites. We would like to thank Prof. Arslan Tunçbilek and Assistant Deniz çalışkan for their positive approach to the problem.This study was realised through 8 seperate visits of approximately 80 students and it was very fruitful. We were truly encouraged by their positive and constructive comments.

27 September : The German Youth Office, Central Counceling Unit, (BBJ e.V. Zentrale Beratungsstelle für Trager der Jugendhilfe) planned an inter country visit : a) To create a possibility to share experiences and information and b) To construct joint projects. In the child and youth context, they made some preparations together with Turkish Foundation for Freedom of Children Again and their representative Mr. Hans Brandtner has visited our foundation to exchange ideas.

2 December: The exchange students studying about social services from Germany, have visited our Foundation and they were briefed about our activities and questions answered.
Charity Bazaar :
Among the activities of our Foundation, organising and participating at the Charity Bazaars and Fairs take a big proportion, and create an important amount of financial support as well as forming strong ties with other NGOs and improve our public relations. We never fail to explain our aims and goals to the participants of the Bazaars or buyers who visit these venues, showing how wide spread our activities are and the ever increasing strength of our Foundation.
The Charity Bazaar we organised on 18 November 2005 at Ankara Dedeman Hotel, hosted a large number of participants and visitors as well. We had a lot of artisans and buyers and 12 NGOs with whom we shared our stands just like they did, creating a fine sample of solidarity.

As every year, we opened a permanent Bazaar at our "Prof. Dr. Nusret Fişek Hall of Science and Art", before New Year or important Holidays. We exhibited and sold small hand-made presents created and donated (or sold) by our volunteers and they were highly appreciated by our visitors.
Bazaars and Fairs We Participated :
The NGOs that we have invited at Bazaars which we organize, usually invite us back as a sign of solidarity. Also other organisations who are interested in our Foundation and our activities invite us and they show their support and contribution. We thank all these organisations and our volunteers who work with devotion for the promotion of our Foundation.
Turkish – American Culture Association, New Year Bazaar

Association of Textile and Handicrafts

British Wives Club

Association for the Support of Contemporary Living, Bazaar

Anatolian Contemporary Education Foundation, Bazaar

Fair organised by G.O.P. Rotary Club

Maltepe Rotary Club

Kale Rotary Club

Gölbaşı Center for Rehabilitation of Mentally Retarded

TEMA (Turkish Association to Fight Against Erosion) and Women Confederation Conference
Our Foundation received a free stand offer in "Handicrafts and Handmade Presents Exhibition" organised by Forum Fuarcılık(Exhibition) that took place at Atatürk Culture Center between 1-30 December. Products made by both our foundation volunteers and especially the mothers of our "Youth House for Girls" took serious attention at the fair which also contributed to the promotion of our foundation. We would like to give our special thanks to Forum Fuarcılık which is also a foundation enterprise, for their sharing attitutude.
A free of charge table was given to our foundation at the Turkish-American Culture Association"s "Annual New Years Bazaar" between 20-27 December.
Contributions :
Studies we have been conducting at the Pendik Small Industry Site, together with the Bureau of Working Children (Pendik-Istanbul), which was formed under the Project of ILO/IPEC, by TISK (Turkish Workers" Union), gradually have been shifted under the responsibility of the group formed by TISK since 2002. Between January and December 2005, our foundation has made material and equipment contributions to the health surveillance activities of this group.

Our foundation attended and took part in many meetings and organisations which aimed to build capacity and enhance the network between NGO"s for children. As we are aware of the fact that, cooperation and assistance between NGO"s creates a multiplier effect, we will keep on supporting all the efforts made for enhancing child wefare.
On – Going Projects :
Fişek Institute continues its model activities about child labour and Shared (common) health units, in centers, at Ankara – Ostim and Sincan Organized Industry Districts. Our "Mobile Clinics", a first in Turkey, continue visiting small industry enterprises and offering health and safety services and reaching the children workers at these workplaces.
Prof. Dr. Nusret Fişek Hall of Science and Art continues the "Nusret H.Fişek Library Site" as a part of its activities. These are the 12 parts of the "Library Site" :

Libray of Child Labor
Library of Health, Safety and Environment at Workplaces
Library of NGOs
Library of Social Security
Library of Population Science
Library of Working Women
Library of Social Medicine
Library of Trade Unions
Library of Social Policy
Library of Human Rights
Library of Immigration from Turkey
Library of General Culture
The total number of books provided until the end of year 2005 is over 6000. We still continue to move all the books to digital media. All through the year, we also could see how useful and functional the "Bookworm" Program was, developed by our information technology group; Didem Kamoy, Doruk Fişek and Ekin Meroğlu. This made the libraries easily accesible on the internet. We thank them for their contribution.
Cooperations with Other Organisations :
Cooperation with TISK, concerning actions for working children: In İstanbul, the "Project for Shared (common) Health Unit for Workplaces" and "Bureau for Working Children" covering all child workers in Pendik Industry Site, continue. We thank everybody who took part in this Project, especially General Secretary Mr Bulent Pirler, Research Expert Ms Zubeyde Celebioglu and Project Manager Dr Nezih Varol.
The Research and Development Work on Operational Health and Safety:
In our country there is a gap in operational health and safety domain. Especially in information transfer, experience sharing and opening new horizons we are experiencing a huge constraint. Fişek Foundation, since the very beginning, has always been a pioneer and a symbol for new steps. This year, under this context, we added a new loop to our activities- mobile e-exray facility, which ends the film and developing problems. This system also gives a clearer evaluation and now is available to small industrial business sights. Given the restrictive behaviour of some procurers, we must indicate the difficulty of applying the "Research and Development" activities in small areas and restrictive attitudes.
We also converted the puzzles prepared by Mustafa Tasyurek for our magazine "Working Environment" , into big educational posters. The original cartoons were drawn by Feridun Yüksel and this poster was added to our poster exhibition. You can either see them in the internet or at our center in Sincan Endustrial Area. We take this opportunity to thank to both Mustafa Tasyurek and Feridun Yüksel for their creative contributions to our foundation.
Relations with the Media :
We thank all media employees who contributed to our foundation"s objective through broadcasts and publications on the subject :
Ankara Radio : On 14.09.2005 Şenay Gökbayrak talked about our "Young Girls" House on the air.

Ankara Radio : On 22.11.2005 At the program "Through Talking", hosted by Murat Ören, Prof.Dr.A.Gürhan Fişek, talked about the activities and the approach towards child labor of our foundation on the occasion of World Children"s Day.

Diyarbakır Radio (TRT) : On 13.07.2005, at "Civilian Life" program, hosted by İlknur Polat, then on 21.12.2005 hosted by Senem, Prof. A.Gürhan Fişek was interviewed to give information about our foundation.

TRT-INT : Ms. Şenay Gökbayrak and Prof. A.Gürhan Fişek participated at the program about "Brain Migration of Women" .

Cumhuriyet Newspaper : Işık Kansu, wrote in the article of 31.12.2005, about our new activity, "Memorial Institutions Series of the Republic" and published excerpts from the first book "Children Protection Association".
Our Data-Processing Activities :
In the Library Site, receiving numerous visitors, the book addition system has been renewed. The newly registered books are added automatically into the web-site, without any additional process. From now on, the process of categorizing the books is realized on the internet by library administrators.
In order to up-to-date the contents of the websites (isguvenligi.com, beyingocu.com, cocuk emeği haberleri) by the other volunteers of the foundation as well as data-processing team, we have a new interface. This way we have substantially shortened the time span between preparation and uploading the contents to the web sites. We also have renewed the graphic design of beyingocu.com so the information is much better reflected.
We developed an interface in order that the employees of the Institute could also up-to-date the e-mail addresses to which our foundation sends the announcements and activity news as well as the data processing team. This interface enabled the responsible team to achieve the address list, add or delete easily.
We have added a new computer to the Türközü Young Girls' House. Now, 4 people can use the computer at the same time.
Because the computer using units in the Institution have increased in number, a new messaging system between the centers is activated. This helps all employees of the Institute who are actually on the internet, to send and receive messages very quickly.
Within the context of our project to bring health and social services to the children working in small scale work environments, new medical and technical equipment were put into circulation and programming, staff training and maintenance were realized.

The faxes sent to all units are accumulated in one center and related people can follow them on the internet.
The software which enables the institute employees and volunteers who need to reach their mails on the web from different computers has been renewed.
The internet hosting which undertakes the load of internet infra-structure of the Institute 7/24 has been renewed.
The data processing team continued to share information with the society. They were invited to take part as guest speakers in: Academic Data-Processing Conference, Bilgi University Free Software Days, Linux and Free Software Festival, Conference on Internet in Turkey; they also delivered seminars in different universities. We would like to thank to our Research and Development Team: Ekin Meroğlu, Doruk Fişek and Didem Kamoy for their valuable input and new horizons they introduced to our operations.
Acces to Internet :
The Foundation has six internet pages: fisek.org, isguvenligi.net, beyingocu.com, fisek.com, linux.fisek.com.tr, uzakulke.fisek.com.tr. The total number of visitors of all these pages have exceeded 2000. We believe that an NGO should express well its objectives and inform the public about its activities. We also believe that this attitude would develop the self confidence of the society and problem solving capacity and enhancement effect as well. Among our internet pages, only fisek.org has been preapred in both Turkish and English. The fact that more than 20 % of the visitors of these pages show us that we are able to transmit our objective to the people and instittutions of foreign countries. In fact a lot of links from the related web sites to our web site support this opinion. The frequent daily visits to our web pages with only turkish language, show us that turkish people in foreign countries also are interested in our approach and activities about child labor.
During the past year, our web sites have been visited by people from : Germany, USA, Albania, Australia, Austria, Azerbeijan, Belgium, United Arab Emirates, Bengladesh, Benin, Brazil, Great Britain, Bulgaria, Algeria, Check Republic, China, Denmark, Estonia, Ivory coast, Moracco, Philippines, France, South Korea, India, Holland, Hong Kong, Irak,Iran, Spain, İsrael, Sweden, Switzerland, İtaly, Japan, Canada, Quatar, Khazakistan, Kirghizistan, Lituanya, Lebanon, Macedonia, Malesia, Mexico, Egypt, Norvay, Uzbekhistan, Peru, Poland, Portugal, Romania, Russian Federation, Senegal, Slovakia, Syria, Sudan, Saudi Arabia, Chili, Tailand, Taivan, Ukraine, Vietnam, Yugoslavia, Greece.
Percentage of our web-site visitors according to their country of origin during the past year are as follows :
1-Turkey (80 % of all visitors)
2-USA (12 % of all visitors)
3-Others
Another paradoxal information about the visitor percentage of our "linux.fisek.com.tr" page, according to their country of origin during the past year are as follows :
1-Turkey (20,67 % of all visitors)
2- USA (77,51 % of all visitors)
3-Others
Monthly Statistics of Our Web Sites
fisek.org.tr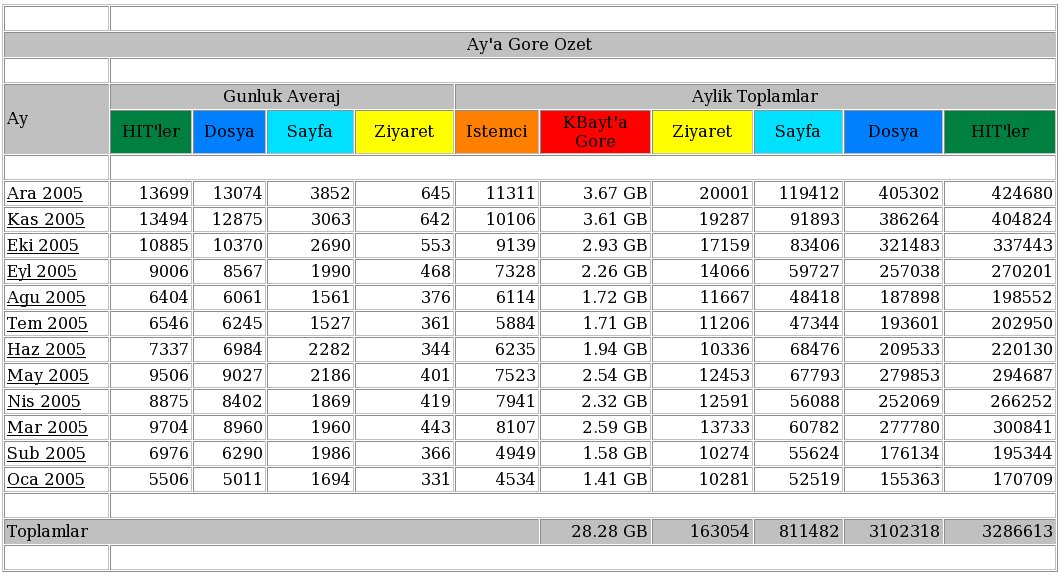 isguvenligi.net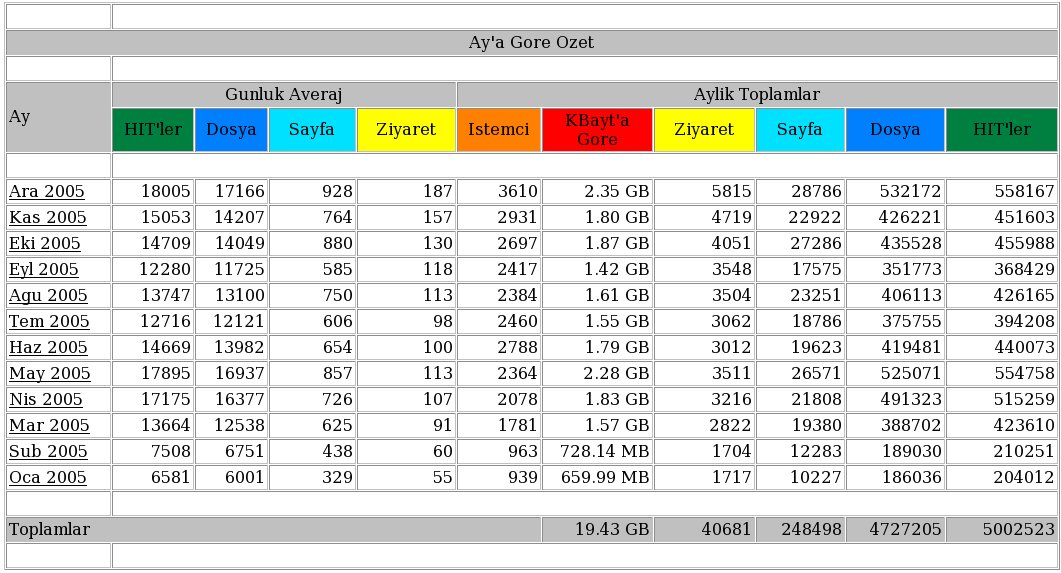 beyingocu.com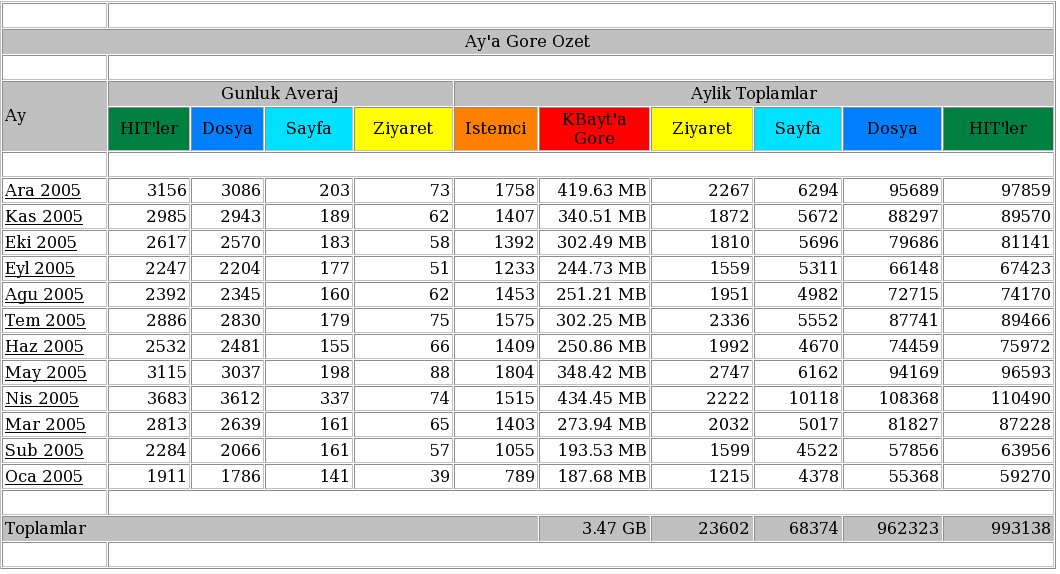 fisek.com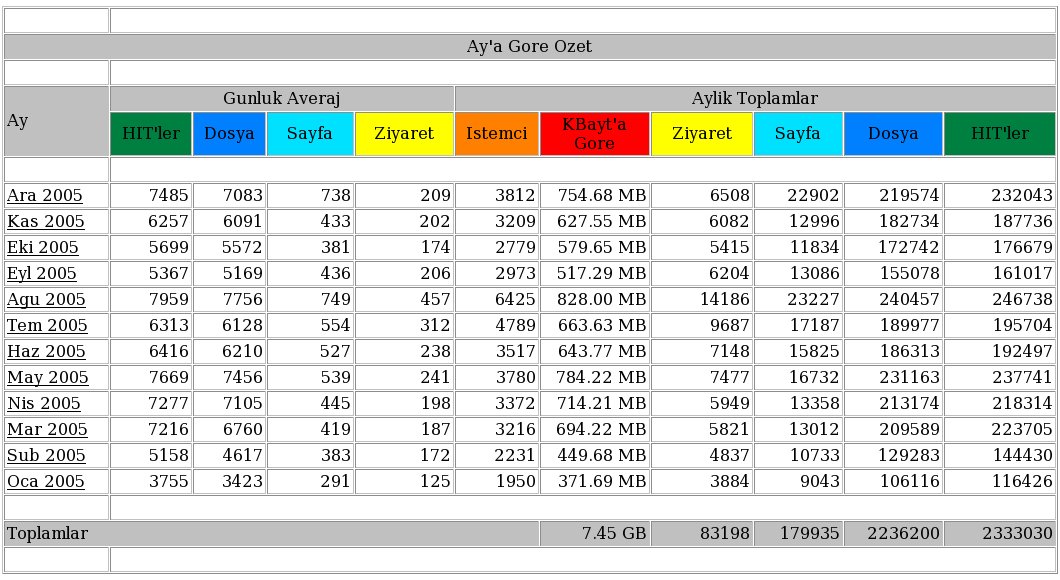 linux.fisek.com.tr